I took some time yesterday to visit my old stomping grounds,
Portland Saturday Market.
I could not have started my business without many hard and sweet hours as a vendor there. It is a mash of noise, art, laughter and music. The artisans are without a doubt some of the most talented, creative and kind people I've ever met. Its been wonderful to make the transition from struggling art market vendor to doing rather well on Etsy but it has been hard to leave the camaraderie of the PSM community. I miss everyone dearly. I don't get a lot of free time, especially kid free time so the few hours I spent by myself yesterday chatting with my old friends was just a bit of heaven. Of course, you cannot stop by the market without shopping just a smidge. My good friends
Vince and Sabrina
make the most incredible pottery.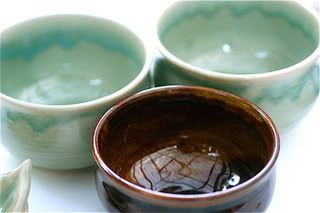 I had to pick up these lovely tea bowls and a handful of their amazing leaf plates.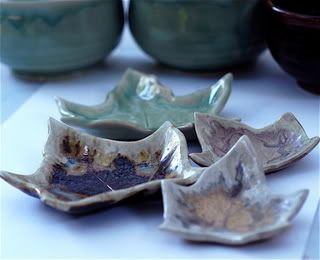 --------------------------
The Vendors of Saturday Market may be losing their home. They're not highly regarded by the city planning commission and may very well be bumped from their spot at the end of 2007. There isn't much I can do but encourage all of you living in or visitng Portland to stop by, get some amazing art and let the City Council know that the market is an icon, a community and treasure to Portland that should not be paved over by high priced development.

(I have to say to Cathy, thank you so much for your kind words yesterday, I was so flattered and touched by your support!)